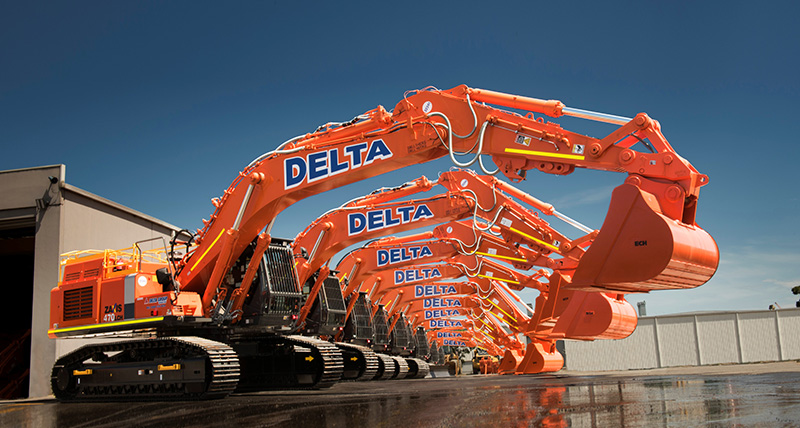 Plant & Equipment
As a Delta Group subsidiary, CMA Contracting will call upon the largest privately owned fleet of specialised plant and equipment in Australia.
It is purpose-built for our diversified industrial services model and regularly upgraded to ensure we capitalise on late model machinery and the latest software and hardware developments that allow us to increase productivity and value engineer complex work programmes for our clients.
The fleet is meticulously maintained and our transport logistical systems allow us to manage and track thousands of vehicle, plant and equipment movements each day – Australia wide – and include Green Star accredited waste materials tracking and reporting.
In house fabrication workshops deliver custom design expertise and our capacity to deploy capital expenditure for new plant and equipment gives us the ability to meet any client or project requirement.
Our plant includes:
Komatsu PC160t
Liebbher 130t
Hitachi 120t/125t
Hitachi ZX Series – 87t
Komatsu PC71t Longreach
Komatsu PC70t
Hitachi ZX Series – 67t
Volvo 48LR
Komatsu 45LR
Hitachi 45LR
Hitachi ZX Series – 22t, 30t, 47t
Atlas Copco T45 Drill Rig
BROKK Demolition Robots – 280/540
Mobile Crushing & Screening Plant
State-of-the-art precision attachments such as shears, pulverisors, crushers, grapples, hammers, magnets, rippers and buckets further enhance and maximise outputs and operating efficiencies.
Our fleet of heavy (industrial) plant and equipment is supported by 4.5 and 8t Yanmar Excavators, Mustang 1650Rs, Knuckle Booms, All Terrain Scissor and Forklifts, Articulated Dump and Water Trucks, Graders, Compactors, and HR vehicles – double semi tippers, truck and dog combinations.
Clients may also take advantage of our fleet of commercial skip bins (hook and marrel) as well as Front and Rear Lift Bin Trucks for the licensed transport and disposal of C&D and contaminated (HAZMAT/HAZCHEM) waste.